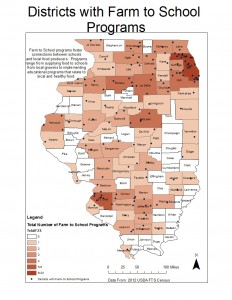 How many school districts in Illinois say that they are working on Farm to School projects? How many districts are serving local foods in their cafeterias, and how many want to start? These are questions that the first Farm to School Census, conducted by the USDA in 2012, sought to answer. This year, the USDA has sent the survey out again to see how Farm to School programs are growing.
In anticipation of this new data, which will be available by the end of the year, we at the Illinois Farm to School Network have started the Illinois Farm to School Mapping Project. Due to the work of Jacob Horn, GIS mapping student and Masters Candidate at DePaul University, we now have a framework map from which we can work.
Take a look at our Farm to School Activity map. This map shows Illinois counties shaded for different amounts of activity, with the darkest colors being the counties with the most active school districts. All of our data is district-based and does not show individual school efforts. The dots on the map show the districts that claimed in 2012 to have any Farm to School programming – such as gardens, procurement, education, farm visits, or other activities. Our hope for the 2015 Farm to School census is that we will see a huge increase in activities!