It's springtime in the scenic Finger Lakes region of New York. Bees are flitting from flower to flower as young green folliage shoots up from the ground along the narrow lakes which make up this area. But not everyone is focussed on the wonders of springtime in this picturesque slice of Central New York. If the wind is just right, the scent of sauteed autumn squash tossed with late onions drifts on that cool spring breeze from the New York State Wine and Culinary Center. It makes one think of fall, not springtime. As you near the door to the culinary lab, the sound of whirring fans from multiple dehydrators and laughter can be heard from the hallway. Wait a minute.. what's going on?
Those sounds and smells are coming from a Farm-to-Cafeteria training designed to create a bridge between local food service cooks to the incredible array of seasonal produce in their region. The group responsible for putting together this unseasonal and well-thought-out training series? The Finger Lakes Farm-to-Cafeteria group, located in Central New York. This farm-to-cafeteria group is a project of Seeking Common Ground in collaboration with Cornell Cooperative Extension of Ontario County, Cornell's Farm-to-School program, Bloomfield Central School District, Happy Goat Farm and Rosecrest Farm. A group of like-minded and dedicated professionals working to connect their regional foods to local cafeterias.
I'm sure you've heard of farm-to-school or farm-to-cafeteria trainings, many taking place across the U.S. on any given day. I know you're thinking: "Why would one more training be worth mentioning?" Why? Because this training focussed on one very important point; "Promoting menu planning that considers future harvest peaks and flexible recipe development based on produce availability." Think about that for a moment. For anyone with a background in managing an institutional program or cooking in an institutional kitchen, that's quite a statement! And, a very difficult one to back up.
I know you're wondering, why? Why is it so difficult for institutions like schools, colleges and hospitals to be flexible when it comes to incorporating fresh and seasonal local foods into their weekly menus? Why is such a frustrating process for these food service professionals to "go with the flow" of seasonal foods in their region? To answer those questions we need to dig deep into the process of putting food on trays, one that is used by institutions like k-12 schools. This is a process that has a staus quo some thirty to forty-years-old.
Limited funds have always, and will always, be an issue. In order to keep their programs above the turbulent financial waters, institutional food service has been forced into a bidding process much akin to the gladiator games of Rome. Only the biggest (and cheapest) may win!  For schools to save money while operating on a shoestring budget, they bid out a "primary vendor" contract to provide up to 95% of their food, chemicals, and disposable products at cheaper prices. And, with that primary bid, any purchasing control these institutions had is swiftly and quite efficiently taken out of their hands.
Now, factor in the preplanned menu grid, which is tied to the prime vendor contract and those cheaper products. Everything arrives from another part of the country, or the world, ready to be utilized daily. Prices are kept low due to volumes ordered and a gu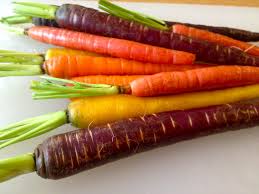 arentee that schools will be ordering for the length of the contract.
Pencil in local foods, if you can. Remember, local food volumes are dependent on weather, bug and disease control and market pricing. And then there's the ability of school buyers to understand the seasons- which products are normally available during which months. Now, we expect them to easily incorporate these wonderful foods into existing menus. It's not easy, on any level!
And, that's why trainings like the one in the Finger Lakes New York area make perfect sense. By educating food service personel to the seasons, the harvest and availability, you give them an important tool. By providing hands-on lessons to incorporate local foods into their existing and future menus, you give them back their ability to put fresh foods on the lunch tray.
In the end, you've essentially given them the recipe to educate, and celebrate healthy foods on the lunch tray. Win/win in anyone's book!