300,000 Illinois Students Celebrate Farm to School Month with a CRUNCH!
By Lydia Mills, Illinois State Lead, National Farm to School Network
Illinois apples made National School Lunch Week and Farm to School Month a success across the state on Thursday, October 13th, 2016, as over 300,000 students crunched into local apples all at the same time. The Illinois Great Apple Crunch is a one-day event all about promoting locally grown apples, and this year more than double the schools participated in purchasing local food and engaged in celebratory, educational activities.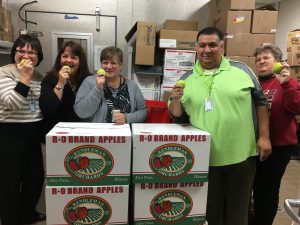 In northern Illinois, Rockford Public School District 205 celebrated the Illinois Great Apple Crunch with apples from Rendleman Orchard in Alto Pass. Wayne Sirles, president and owner of the farm, noted on the Crunch: "The movement has a huge impact for family farms and the Illinois rural economy. It was exciting to see our apples in the school's cafeteria."
Representatives from the Illinois Farm to School Network, USDA Food and Nutrition Service, and the local media attended lunch at Riverdahl Elementary and cheered as students crunched into their apples. Students called the taste of the Illinois-grown apples both sour and sweet, and the green apples were a hit. Eleanor Thompson, Acting Branch Chief of the Midwest Regional Office, praised the school for their efforts. The apples, along with colorful materials designed to celebrate National School Lunch Week, made for an appealing cafeteria environment on the Apple Crunch day.
This fun farm to school program has galvanized Rockford Public School District from district offices to classrooms of all ages. Rolando Saucedo, Production Supervisor for the Nutrition Services, said: "We also sent apples to all administrative staff, teachers and all other support staff! Our final estimate of participation would be around 23,000 staff and students crunched apples in Rockford Public Schools District 205."
The Rockford district is also a participant in the Illinois Farm to School Network's pilot program, Illinois Harvest of the Month. Putting local foods on the menu not only supports local farmers, it also enhances the meal tray and makes kids excited to eat school food. If your school is interested in participating in more farm to school programs, check out the resources on the Illinois Farm to School website.