What's fresh, local and tells a story? A Farm to School lunch in a cafeteria near you!
Join us on March 3rd to learn, explore and share on Northern Illinois Farm to School Day! Want to learn how to start a garden, or cook with local foods? How about celebrating on an early spring evening with neighbors and friends while enjoying local food and drinks at the Farmhouse Fete?
Whether you're a school food service proffesional, an educator, or a mom struggling to get young children to enjoy fresh veggies we have education, information and good ol' fun awaiting you at our Farm to School Day celebration!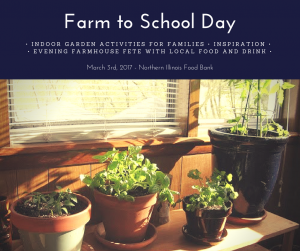 Register for daytime activities and education at the Northern Illinois Food Bank on March 3rd- and then join us later for a sensational and powerful keynote talk from Shawna Coronado, the Warenville gardener who changed her yard, and her life, through growing food. Reserve tickets to continue your Farm to School journey at the Farmhouse Fete, featuring fantastic seasonal foods from Paramount Events and Catering.
Check out all the activities during this wonderful day and evening event featuring everything Farm to School here!
School lunch has a new partner- Farm to School. Come see what the future of school lunch looks like!