Over the past several weeks, we have worked on our March Farm to School Day event making decisions, setting details and hiring vendors. Planning a complex event is stressful and at times, frustrating. Creating an event that best represents our values and our work can be even more so. It is easy to lose sight of what is important as we multitask and face those event deadlines every day.
Where, and with whom, we choose to spend our money speaks volumes. It speaks to who we are, what we hold dear and how deep our beliefs truly go. On the surface, it may seem trivial to be concerned about the practices of the caterer or the event planner you choose to engage. What difference could it possibly make to hire a green, or ecofriendly event planner?  Or, hire a caterer who sources locally whenever possible?
Well, it makes a big difference.
When you are conscious of the practices behind the products and services you purchase, you are more likely to base your spending decisions on those practices. For me, this is an anchor of sorts, which holds me true to my beliefs.
By making an effort to work with local businesses and artisans, or people with a talent to create or orchestrate, we bring our message to the forefront. We invest our money in our values. On March 3, we will be holding true to our beliefs. Here are a few of the companies who support our values, which we have chosen to work with.
Naturally Yours Events is a Chicago-based company with strong beliefs in green

planning and reducing waste. They are professionally and personally committed to minimizing the negative impact on the environment through recycling, composting, supporting local and eco-friendly businesses, using public transportation and car sharing programs, choosing sustainable food options, and using greener office/household products. The team at Naturally Yours thinks outside the box in helping to highlight your values, promote awareness and inspire others to think green.
Carlene Smith, the owner of Naturally Yours Events, has been instrumental throughout the planning and execution phases of this daylong farm to school training, family activity and evening celebration event. Her knowledge, industry contacts and enthusiasm are priceless! And, her upbeat personality and firm belief in planning green makes it easy for us to put our money where our values are. You can connect to Naturally Yours Events at http://naturallyyoursevents.com/
Paramount Catering and Events in Chicago creates inspiring foods, including sustainable ingredients and local products. Their menus highlight fresh, seasonal ingredients working with partner farms and farmer's markets in our area. Did you know that Paramount servers share information relating to the origin of ingredients in their delicious appetizers? Not only is their food amazing and local, their staff is knowledgeable and connected to the foods they serve.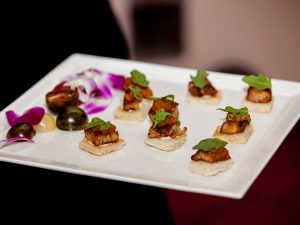 Paramount supports and works with non-profit organizations, as well as, independent customers. In their eyes, success goes beyond a perfectly executed event. They feel it is important to support their community by building meaningful relationships with area organizations that are near and dear to their hearts. Once again, we at the Illinois Farm to School Network, are sharing spectacular foods for the evening Farmhouse Fete, and supporting our community in the process! Please visit Paramount Events and Catering at http://paramounteventschicago.com/
Cacao Sweets and Treats is a confectionary gem located in Grayslake. Owner and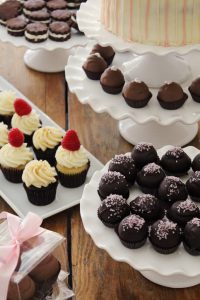 baker, Candice Hunsinger, has turned Cacao into a true community-gathering place instilling the concept of slow food as opposed to fast food, right down to the vintage chairs in the space. Cacao makes their treats with the passion and time the ingredients deserve hoping customers will slow down to grab a cup of Lake Forest-roasted Reprise coffee (served in a handmade mug) and enjoy a cookie or biscuit.
The space in Grayslake is utilized to host workshops like Kid's Cooking Naturally, as well as events. Candice creates celebration cakes that are absolutely breathtaking, and she makes her candies and sweets with the utmost care and the finest ingredients. If you don't have a sweet tooth walking into our March 3 event, you will after indulging in these fantastic sweets! You can check out Cacao Sweets and Treats at http://cacaosweetsandtreats.com/