Save the Date!  Great Lakes Great Apple Crunch happens on October 8, 2020.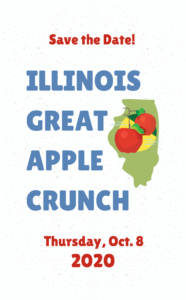 Look for new Crunch Guides and more coming in August 2020!
Help Us Reach 2 million Kids in 2020!
What is the Illinois Great Apple Crunch? The Illinois Great Apple Crunch is a day-long celebration of fresh, local apples. The Illinois Crunch is a part of the Great Lakes Great Apple Crunch celebrated across the Midwest! Schools, early child care facilities, and child education programs across the state of Illinois can participate by serving local apples on the lunch tray, or in the classroom, and 'crunch'-ing into them together at noon. Illinois Farm to School Network provides educational supplements for use in the cafeteria and the classroom that will teach your students all about Illinois apples.
Illinois Crunch participants join children and adults from across the Great Lakes region in Indiana, Michigan, Minnesota, Ohio, and Wisconsin in celebrating National Farm to School Month by crunching into locally and regionally grown apples at noon on the second Thursday of October. Registered participants are encouraged to participate at noon on Crunch day, but can celebrate on any day or time in October that is convenient for them.
Everyone is invited to Crunch, including schools, early care sites, hospitals, colleges, community organizations, after-school and residential programs, and more. Let's continue to make Illinois the loudest Crunch in the region!
The Illinois Great Apple Crunch is supported through a partnership of the Illinois Farm Bureau, Illinois Ag in the Classroom, and Illinois Farm to School Network. You can read about the developing market for Illinois apple growers here.
The Great Apple Crunch has been growing every year: