Celebration Materials for the Cafeteria
There are many ways to celebrate Apple Crunch. You can check out the Great Apple Crunch Guide for K-12 sites,  for early childhood sites and office crunches to explore fun ideas, promotions, and activities perfect for the cafeteria!
Organizing the Great Apple Crunch Day in your cafeteria can be as easy as crunching into local apples at the halfway point of your lunch period(s) and snapping photos of your staff and students to share on social media. You can also utilize apple recipes all month long via school food service and promote local apples in several different ways. Featuring a weekly Apple Fun Fact with a new recipe on the lunch menu can build interest in the main event and keep your students engaged throughout the month of October! You can find tools for both methods of cafeteria participation listed below. Happy Crunching!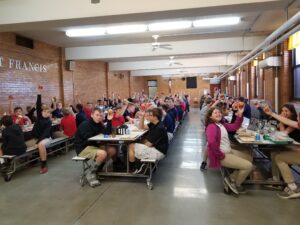 Saint Francis School 2019
The Cafeteria Crunch
On Crunch Day, be sure to announce the event in the cafeteria. A teacher or school administrator could announce the event, or if you have multiple lunch periods, you could give information and instructions to a school cafeteria worker to read aloud to the students. Make sure that all students and staff know that this is the Great Apple Crunch by advertising and sharing the upcoming event in school announcements, on your school's website, and on social media.
Cafeteria Day-of Announcement Example: 
"Students, don't eat your apples yet! Today is the Illinois Great Apple Crunch and we are going to CRUNCH into our apples together alongside students from across the Midwest. The apples on our plates are from a local farm (add more details about where the apples are from!). Apples take many months to grow and it's important to eat them in the fall when they are fresh. Midwestern apples are crispy, crunchy and sweet. Eating local apples is great for the state of Illinois!
Now, on the count of five, let's CRUNCH together! 1, 2, 3, 4, 5, CRUNCH!"
Steps for a Successful Cafeteria Crunch
Announce the Crunch

During lunch, or whenever the apples are served, be sure to announce the Crunch to the students. Feel free to speak about the Crunch on your own or read from our pre-made 'script,' found above.

Display the name of the apple farm in the lunch line. You can find this listed on the box of apples or contact your produce distribution company to get this information.
During the lunch periods, have all of your students' CRUNCH into their apples at the same time! It's fun and loud!
Take a photo of your students CRUNCHING and submit it to us on the website or share with us via social media that day!
Adding Local Apples to School Menus
The best way to educate about good health and eating right, and create interest in local foods is to repeat the number of times your students are exposed to the food. Everyone knows kids like apples. However, sharing information about how apples are grown, where they are grown and fun facts about apples like "how many apples does it take to make an apple pie?" will make learning interesting and fun.  This can be accomplished by serving local apples once a week throughout October in honor of the Great Apple Crunch and National Farm to School Month and celebrating apples every time.
When you feature a local apple recipe, be sure to share interesting facts about those apples. Nutrition facts and facts about apple varieties grown in Illinois, along with the location of the orchards in your area (check our Finding Apples tab) are a great way to keep your students engaged. You can find fun and nutrition facts from the University of Illinois Extension here. And, from the Illinois Farm Bureau here.
Local Apple Recipes for School Meals
Do you need help to find local or regional apples for your food service? Here are a few ways to get those local apples on your lunch tray!
Source identified local apples through the DOD Fruit and Vegetable Program, look for "local" tagged selections
Buy apples from a local orchard, sourcing smaller apples that are hard for farmers to market
Buy apples at your local Farmers Market! (ILFMA Market Search)
Buy apples from a regional produce aggregator or food hub (Illinois Food Hub Directory)
Source identified regional/local apples through your broadline or area produce distributors
Here are just a few of the apple recipes we have for school lunch. These recipes come from our Illinois Harvest of the Month program and have been developed for food service with nutritional data and USDA meal components included.