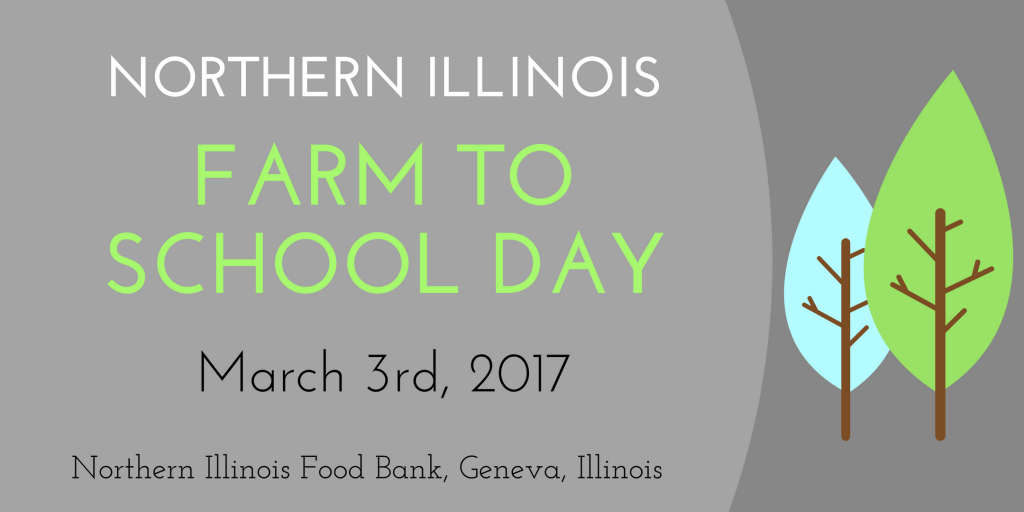 Want to learn how to start a garden, or cook with local foods? Teachers, parents, and kids of all ages are welcome to join us at the Northern Illinois Food Bank for Farm to School Day – on March 3rd, 2017!

In the morning, the Illinois Farm to School Network staff will run trainings for food service professionals.
And, for school food service professionals: Can your school food service incorporate scratch recipes and fresh entrees without upsetting the apple cart? Learn the steps to incrementally add scratch cooking to existing menus while utilizing current staff and facilities. Food service staff can register HERE to join these eye opening workshops on successful scratch recipe conversion and the Harvest of the Month program. Participants will also have an opportunity to observe school recipe demos in a state-of-the-art kitchen classroom at Northern Illinois Food Bank. Log up to three hours of professional development credits!

Families and anyone interested can join us at the Northern Illinois Food Bank in the afternoon for hours of fun, hands on activities to get us ready for Spring! Learn about seed starting, cooking with local foods in the winter, healthy meal planning, and more.

ACTIVITIES INCLUDE:

Planning and Planting a Vegetable Garden
1:30 PM: Planning and Planting a Veggie Garden, with local Master Gardeners

Includes hands on seed starting activity designed for kids!

Feed your whole family the fruits and vegetables they enjoy from your own garden. From site preparation (size, location and soil) through harvest, a Master Gardener will give your audience the tips and tricks for successful vegetable gardening. Topics covered include garden layout, selecting plants and seeds, timing your plantings, tending and more.

2:30 PM: Eating Healthy Fruits and Vegetables, with local nutrition educators from University of Illinois Extension
3:00 PM: Hands on salad making

Make a winter salad with freshly grown greens (yes, you can grow greens in the winter!)

3:15 PM: Tower Garden Chat

Learn all about indoor, aeroponic Tower Garden systems and how they are helping grow food all year in Kane County schools

Join us at 6:00 pm for a keynote talk from Shawna Coronado, the local gardener who changed her yard and her life through growing food. A well known author and speaker through many Ted talks, Shawna will share her revelations and discoveries as she defied standard treatments for spinal osteoarthritis.

Check out this video from Chicago FOX 32 all about Shawna's Living Wall Garden, and check out her youtube channel for more inspiring and informational videos.