Growing Deep Roots: The 2021 Illinois Farm to School Institute
Welcome to the Illinois Farm to School Institute page! 
The Illinois Farm to School Institute is a revolutionary new way to find exactly what you need to build and deepen the impact of your farm to school program.
This free, virtual institute opens on June 1 and closes on January 1, 2022, allowing participants to discover tools, review resources and receive training on the topics they need to move their programming forward. The 2021 training opportunity is open to child feeding, garden, and education site teams across Illinois. Check out the opportunities available.
Engage at your own speed – create a personal team schedule to watch, listen and review each module. Set up reminders to your email boxes. The Institute will be open to registered teams until Jan 1, 2022.
Ask the experts about gardening issues, buying and incorporating local foods into menus, fifth season programming, and building beneficial connections across your community in one-on-one consultations.
View videos, webinars, podcasts, and resources determined by your needs, to help answer questions specific to your program. 
Take a engaging virtual tour of Angelic Organics Learning Center and Farm in Caledonia, IL and enrich your understanding of what an investment in healthy food truly looks like.
Ask questions and get answers specific to your program type in a  free consultation, including assistance to create a 3-year plan for your program!
Receive assistance to create a free MarketMaker account as an institutional buyer.
Garden programs receive assistance for registration to the Illinois Learning Gardens Map and connect to online garden networks.
Feeding programs receive an invite to the new Illinois Farm to School Google forum.
Program-specific "speed dating"! Form a co-learning relationship when introduced to other sites with similar program capabilities to share best practices, fixes, and highlights of farm to school activities. We'll match and introduce you so you can learn from each other. 
Would you like to share this opportunity with a child feeding or garden site, or with producer? Download our event infographic!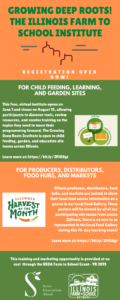 Before You Apply
Meet with your team to discuss your coordinated participation in the Institute. 
Be sure your team will have the time available to complete the Institute within the 60 day period. Estimate a combined total of approximately 6-hours of participation (based on your needs), not including any consultations and email responses or requests.
Be positive. Be onboard with the process. Be committed.
To customize the Institute to your site, we must understand your present needs. We recommend completing your responses to the Needs Survey Narrative responses (see below) in a separate document. You can copy/paste your responses in the appropriate spaces when you are ready to submit your application.
Needs Survey Narrative:
1. Describe your current efforts integrating Farm to School at your site. Share the overall "picture" of your program including any gardens, food sourcing, events such as tastings, education connections, community involvement, menuing, etc. If you are a new site with no programing in place, tell us in detail why you wish to create a Farm to School program. We will accept a percentage of new programs for the Institute.
2. Tell us what you don't know. In other words, what knowledge does your team need to move forward? Please share all your immediate needs here.
3. Anticipate what will be needed in one year. Ask the team to focus on the possibilities moving forward in one year's time. What knowledge will your team need to move into phase two or three of your program?
4. It's all about the team! What happens if your champion is no longer there? Please share three specific, obtainable goals that will help you deepen your program impact and build sustainability, regardless of who is at the wheel. Consider the phrase: Goals we are ALL willing to achieve.
Apply
Logistics
Producer & Distributor Poster App