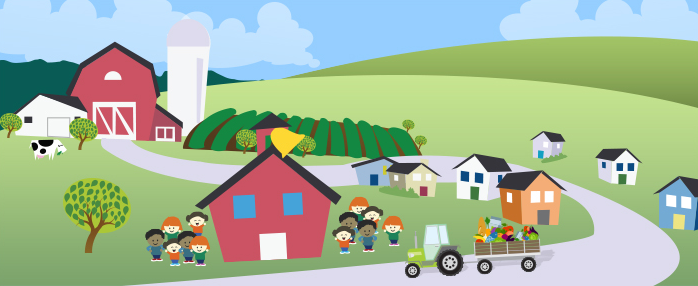 Seven Generations Ahead (SGA), the convening organization for the Illinois Farm to School Network, has been selected to receive a competitive USDA Farm to School Grant. The funds will be used to create a robust farm to school program in Kane Country, in partnership with the Kane County Health Department. Alongside the development of the Kane County Food Hub, this project will increase local food distribution, access and education within Aurora area schools.
Lydia Mills, Farm to School Program Coordinator at SGA, knows from experience that when students take part in farm to school programs, they are more willing to try new, healthy foods. "This grant will enable us to work closely with local farmers and create an easy path for their nutritious food to end up on student's plates," she says. "We will also bring our programs into Aurora schools to teach students about food and how it grows, so they are excited to try it!"
The USDA is a major advocate for these types of programs. "Farm to school programs work—for schools, for producers, and for communities," notes USDA Secretary Tom Vilsack. "By serving nutritious and locally grown foods, engaging students in hands-on lessons, and involving parents and community members, these programs provide children with a holistic experience that sets them up for a lifetime of healthy eating. With early results from our Farm to School Census indicating schools across the nation invested nearly $600 million in local products, farm to school also provides a significant and reliable market for local farmers and ranchers."
There have been $4.8 million in grant funds from the USDA distributed this year for 74 projects spanning 39 states. Seven Generations Ahead is the only 2016 grantee in Illinois. Across the Midwest, many school districts received implementation grants to increase their farm to school efforts. You can find the list of newly funded projects at the USDA website.
The latest round of USDA Farm to School Grants brings investment since the program's inception in fiscal year 2013 to $19.9 million. Projects have been funded in all 50 states, DC, and the U.S. Virgin Islands. This grant program started with the bipartisan passage of the Healthy, Hunger-Free Kids Act of 2010. The renewal of this law, also known as the Child Nutrition Reauthorization Act, is still being debated in Congress, and a Farm to School Act marker bill seeks to increase farm to school funding to further develop these types of programs.