Overview
Healthy, Hunger Free Kids Act
F2S Act
Overview
Advocating for Farm to School
The Illinois Farm to School Network is an advocate for farm to school policy and legislation that support schools, farms and local communities. We partner with the National Farm to School Network to advocate for policy change and to share information with the public, including action alerts.
By joining the Network, you join the nation-wide movement to advocate for Farm to School! Check out our list of members here.
Healthy, Hunger Free Kids Act
Child Nutrition Reauthorization Act (Healthy, Hunger Free Kids Act)
An update on Child Nutrition Reauthorization, as of January 2017:
Last fall, 114th Congress was unable to pass a strong, updated version of the Child Nutrition Reauthorization Act, also known as the Healthy, Hunger Free Kids Act. Multiple bills including the Farm to School Act of 2017, Fruit and Vegetable Access for Children Act, American Food for American Schools Act of 2017, the Anti-lunch Shaming Act, and the School Lunch Affordability Act are still priority items as Congress continues their debate about child nutrition programs.
From the National Farm to School Network: "Yesterday, members of Congress took the first step toward a major win for local economies, farm families and the health of our nation's children. Senators Patrick Leahy (D-VT) and Thad Cochran (R-MS) and Representatives Jeff Fortenberry (R-NE) and Marcia Fudge (D-OH) introduced the bipartisan Farm to School Act of 2017."
F2S Act
Farm to School Act of 2017
The two identical bills, originally introduced in the last Congress, build on the progress of the farm to school movement by expanding the highly successful USDA Farm to School Grant Program, which provides funds on a competitive basis to schools, nonprofits, farmers, and local, state and tribal government entities to help schools procure local foods and to support farm to school activities in cafeterias, classrooms and communities. In its first five years, the program has received more than 1,600 applications totaling more than $120 million in requests. With only $5 million available annually, the program has only been able to fund 365 awards. In other words, demand for the program is nearly 5 times higher than available funding. The Farm to School Act proposes an increase in funding to $15 million annually to level this disproportionate ratio of demand to supply. In addition, the bill will also ensure that the grant program fully includes early care and education sites, summer food service sites, after-school programs, and tribal schools and producers, while improving program participation from beginning, veteran and socially disadvantaged farmers and ranchers.
We know that farm to school activities have proven to be an economic driver for local farms across the country. In the most recent USDA Farm to School Census, schools reported purchasing nearly $800 million in local food from farmers, ranchers, fishermen and food processors in just one school year. Every dollar spent on local food generates up to an additional $1.60 in economic activity, indicating school districts' local food purchases are driving over $1 billion in local economic activity. The Farm to School Act will expand these efforts by supporting the growth of farm to school activities in schools, while also ensuring that more farmers and local food producers can reap the benefits of these new market opportunities.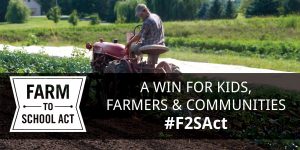 In 2010, the National Farm to School Network and National Sustainable Agriculture Coalition – along with our network of supporters from across the country – successfully advocated for the creation of the USDA Farm to School Grant Program as part of the Healthy, Hunger-Free Kids Act of 2010. In 2015, we teamed up again to advance farm to school priorities in the reauthorization process of the Child Nutrition Act, with the shared goal of supporting stronger communities, healthier children, and resilient farms. While CNR was not completed in the last Congress, we scored major victories with key Republicans and Democrats supporting farm to school priorities through the process (see more here). This puts us in a strong position for federal policy wins with the reintroduction of this marker bill.
"Farmers have been struggling for years with a weak agricultural economy," says Wes King, NSAC Policy Specialist. "One of the many benefits of farm to school programs is that they open up new, lucrative marketing channels to American producers. The Farm to School Act would create opportunities across the board – children win by gaining access to delicious local food and agricultural programming that is both fun and educational, schools and families win by helping children to maintain and/or improve their health, and farmers win by gaining new customers for their products."
This grant program is an essential tool to improve the health of our children, our food system, and our local economies. Help us champion the Farm to School Act of 2017 and grow farm to school across the country.
Learn more about the Farm to School Act of 2017 here: