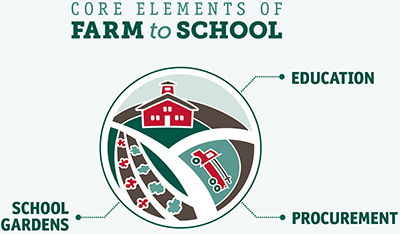 Food and agriculture education is a central aspect of robust farm to school programs. Education in farm to school is not prescriptive and can encompass:
Taste tests in the classroom or cafeteria
Cafeteria displays and service line education components
Science based horticulture or botany education
Classroom cooking lessons
Handouts on different foods
Handouts on different plants
Curriculum modules
School Farmstand or Farmer's Market activities
And more!
Without an educational element, farm to school programs are less able to impact their students' attitudes, knowledge and behaviors around food.
Sow and Grow Nutrition Education Curricula
The Illinois Farm to School Network provides resources to all Illinois school districts for education in farm to school programs. This website is populated with resources and tools for every aspect of farm to school education. Do you have a story about your school's educational programs or are you able to donate your curriculum to our resource guide? Contact the IFSN to have your materials included.
Note: Our Illinois Farm to School Toolkit is currently under construction! Please check back soon for a more user-friendly design and up-to-date resources.