Overview
Why utilize Farm to School over the summer?
Linking summer feeding, activities and garden programs to Farm to School creates an opportunity to involve children of all ages in food education. Farm to School activities enhance summertime meals and provides an opportunity for kids to learn, taste and grow healthy foods all summer long!
Check out our toolkit for Farm to Summer and discover fun activities, education and new ways to serve healthy, local and fresh foods.
Check out these farm to summer resources to get you started:
Resource for learning about what summer feeding program are and how to get involved.
A presentation from the Illinois Farm to School Network on incorporating local foods and nutrition in summer feeding.
Resources for summer feeding programs with fact sheets, webinars, procurement information, activities and more from the USDA.
A webinar on summer feeding from the National Farm to School Network.
Case studies on different programs utilizing summer feeding programs and summer gardens.
Garden Programs
When you add Farm to School programming to your summer garden program you can ramp up education and drive interest in gardening! 
Incorporate fun activities and lessons into summer programming and weekly garden maintenance by simply coordinating your summer garden harvest schedule to a weekly harvest celebration. Summer garden programs have an opportunity to tie what they're producing to Harvest of the Month and utilize lessons and activities. Illinois Harvest of the Month gives you the tools to celebrate and educate all summer long. Share fun nutrition facts and history about each fruit, herb, and veggie you harvest. Create fun celebrations and tastings to get your summer garden experts excited about eating healthy! 
To register for this free summer program click here. 
Do you know someone in your community with a green thumb? That's a sure sign that they know and love growing food! Look for that local, summer gardener who is constantly sharing extra produce with their neighbors. Ask them to be a guest speaker to share their insights and expertise (and extra zucchinis!) with your summer program participants. Conduct a tasting to expose your kids to that just-picked taste of summer veggies! 
Need help to plan a successful tasting? Check out our free Taste Test Toolkit here. 
Don't know a local gardener? Contact the Illinois Extension office in your county and search for a Master Gardener in your town or city. Active Master Gardeners must remain current in annual educational updates (a minimum of 10 hours) and volunteer service hours (a minimum of 30 hours) required by the local program. It's a perfect fit!
Create fun summer celebrations!
Create fun summer celebrations linked to garden harvests and keep the fun in the sun going all summer long! Be creative and name your special fruit or veggie days by linking them to the month or to typical summer weather. Here are a few examples:
Sizzling summer salsa days – June
Stay cool as a cucumber days – July
Lazy days of summer spicy pepper celebration – August
Add a summer recipe to the program and let your kids taste your garden's bounty. Summertime Cantaloupe Salsa or Cool Cucumber and Apple Salad are quick and easy to prepare and a perfect way to share a taste of fresh fruit, veggies and fresh herbs.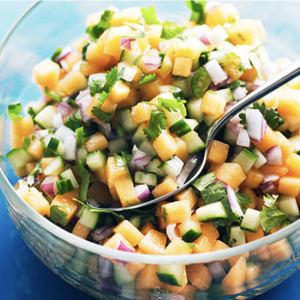 Summertime Cantaloupe Salsa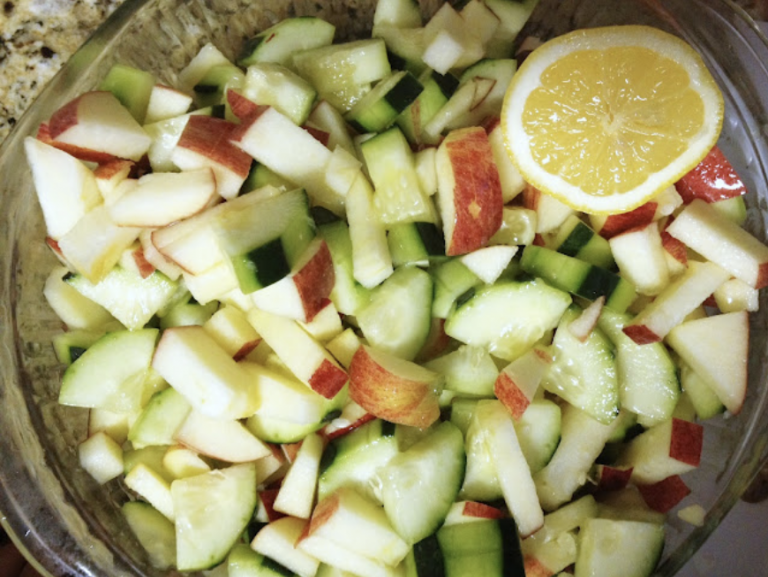 Cool Cucumber and Apple Salad
Feeding Sites
Local food boosts summer meal participation, and local food celebrations can add an educational component to summer feeding. Schools providing summer meals can test out new recipes and veggies within a smaller audience or in a select location. Summer is also the best time to buy seasonally!
Look for Local All Summer Long!
No matter if you're making summer meals onsite or buying summer meals from a vendor, incorporating Farm to School into your summer feeding menus can be a snap! Buying locally, or utilizing garden produce for summer feeding will add education and excitement to mealtime every day. 
Did you know that local food boosts summer meal participation? Adding local food celebrations to meals will add an educational component to summer feeding allowing you to provide a Wellness activity and provide nutrition education.
Are you a K-12 school? Schools providing summer meals can test out new recipes and veggies with a smaller audience or in a select location. Experimenting with new veggies, or popular veggies in new recipes. Summer is the best time to buy seasonally!
Buying local produce, dairy and grains during the summer provides the perfect opportunity to choose and develop relationships with potential new, local vendors. We all know the difference between a home-grown tomato and a store-bought tomato. The taste difference during the height of the season can be eye-opening for young eaters!
Orchestrate an ingredient processing day in mid-August. Creating a "fifth season" by processing veggies at the peak of the harvest can be an affordable option for local ingredients in your entrees during our long, Midwest winters! Shred zucchini and squeeze dry to freeze in ziplock bags to use in muffins and soups in the winter. Or, roast local pumpkins and squash, puree and freeze in ziplocks, too! Create and freeze a Ratatouille blend to use on pizzas, in soups and in pasta dishes in winter.
We have broken down sourcing locally for summer feeding into two categories: Buying and Preparing Summer Meals and Buying Summer Meals from a Vendor to help you source and serve local foods.
Buying and Preparing Summer Meals
When buying and preparing summer meals look for local at:
a local farmer's market
in school or community gardens
area farms and urban farms
your broadline & area produce distributors, food hubs & local food aggregators
your local grocery outlets
Buying Summer Meals from a Vendor
When buying summer meals from a vendor share information about Farm to School:
Share information about Farm to School by sharing our website.
Ask your food provider to source locally through the summer for your feeding program. Share procurement tips from our website toolkit.
Share search engines to locate local food:
Can't get local on the plate? Build beneficial partnerships!
Ask your grocery or produce market to supply local summer veggies for taste tests. 
Use local veggies from a community or school garden for taste tests.
Share fun Farm to School activities during lunch!
Make inexpensive Living Necklaces
Educate kids with a "Plant the Seed!" day using herbs, lettuce, radish, hot peppers or other window friendly seeds planted in an inexpensive take home paper cup or in recycled water bottles. Plant the seed for acceptance of healthy, fresh foods!
Register for Harvest of the Month for Summer and utilize activities, celebrations and education activities all summer long!
Summer Camps & Programs
Farm to Summer Camp
Adding Farm to Summer activities to a summer camp program is a wonderful way to reconnect kids to the food they eat!
Planning for Summer Camp Activities
Be sure to include these considerations when planning a farm to summer camp program.
When planning for a part-day or a full-day activity schedule be sure to consider the age group(s) of your campers! Younger children with shorter attention spans do well with short bursts of activity, while older kids manage longer instruction and activity times.
Develop a focus for your farm to summer program. You can utilize multiple focus areas, but be sure each focus area leads well into the next. An example would be a garden or farm focus tied to nutrition and ecology: 1) growing food, 2) preparing and tasting foods, 3) identifying what each food does for your body and 4) what roles the foods play in ecology. 
Always make it hands-on to encourage kids to repeat these activities at home or at a school garden.
Remember the golden rule: Kids need rest and play time to balance out their day! Physical activities should always be balanced with quiet time activities or relaxation time. Incorporating play into the day will keep your kids attention focused and allow them to be "wild" and enjoy creativity at their own personal level.
 
 
Early Childcare