---
Beautiful gardens are growing across the state! Check out the case studies below to get inspired. Do you have a garden story to share? Contact diane@sevengenerationsahead.org to be featured below!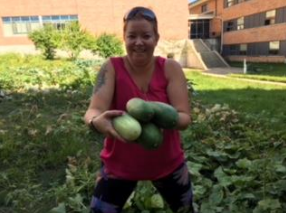 East Aurora High School in Kane County is growing their salad ingredients right on-site! Staff and community volunteers plus nearly 200 student volunteers have been cultivating the EASD 131 Gardens Galore! since 2015. They've planted 38 varieties of fruits, vegetables and herbs and produced 900 pounds!
The garden has been effectiv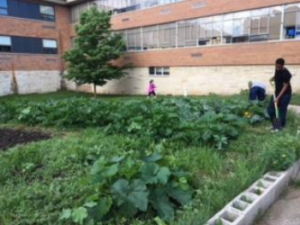 e in involving student responsibility and education on the process of food from farm to school or table. Students have volunteered over summer breaks, study halls, after school, and as classrooms to contribute to this food procurement. The garden has goals of extending the growing season all year by building tower gardens for the in classroom.
In Madison County, students of the Farm to School Gardening Club at Lincoln Middle School rolled up their sleeves and built a garden! These proactive students educated themselves on the process of farming and became experts on a variety of agricultural plants.
Teachers stressed the importance of the students learning the entire process of how food ends up on their tables, starting with growing that food themselves from seed. The Gardening Club hopes to establish a selling relationship with a local market and are developing a curriculum to incorporate these lessons into other disciplines. Lincoln Middle School is doing a fantastic job of teaching students to appreciate the process of how food ends up on their plate! See photos here.
Students at Westmont High School in DuPage County, Illinois are growing food indoors and out!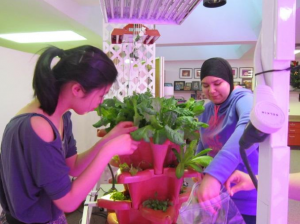 Lisa Hootman, science teacher, manages the Westmont High School garden program Earth to School. Westmont has expanded their garden from 8 raised outdoor beds to 16. They added indoor hydroponics incorporating high school curriculum from biology, chemistry, environmental science, math, and business. In the fall, the school donates part of their harvest to the People's Resource Center in Westmont. They also hold an autumn Farmer's Market in conjunction with school athletic activities. The garden is truly year-round and also feeds the students in the form of classroom tastings, and on the lunch line! Lisa worked with a company called Root 66, based in Brookfield, to install the hydroponic garden. Westmont High School is doing great work teaching students how to grow and eat more veggies!