Funding your farm to school program can help your school district accomplish great things, even with just a small grant! From gardens that support the community to cafeteria local food taste tests, funding can be a key factor in bringing your program's goals to fruition. These grants vary in focus from kitchen and prep equipment, salad bars, training for staff, school gardens, farm to school program planning and program implantation and physical activity grants.
Are you considering writing a grant to fund your project? Illinois Farm to School Network can provide training on multiple farm to school related topics for school food service and teaching staff.  If you are interested in adding training or technical assistance to build or grow your program, contact us to discover how we can be added to your grant proposal!
Here are the basic steps in writing a grant:
Generate and develop an idea – Build a sound proposal by involving key stakeholders and partners in the process. Determine what potential grant partners have to offer, and what expertise they can provide that will prove beneficial for your project. The Illinois Farm to School Network, based at the nonprofit organization Seven Generations Ahead, is a partnership option. By partnering with us and providing funding through a grant, we would be able to come to your school and give you hands-on support and technical assistance.
Identify potential funding: Once your project for funding has been established, research grant funding possibilities. Find funders with a record of supporting schools. A funder who shares similar goals as your project is more likely to fund you. Make sure to read through the guidelines and requirements. Funders who have previously supported community health initiatives, sustainability or garden projects, or want to see kids eating more healthy food, are ideal.
Write the application: Your application should reflect your organization's project focus and design, while fitting in with the guidelines given by the funder.
Address available resources needed for the project, develop the goals and objectives for the proposal and suggest strategies for meeting those goals. You should also develop a tentative budget of expected income and expenses. Here is a sample budget that you can use!
Submit the application: Once the application is completed, it must be submitted on time and in compliance with the grant requirements.
Here is a list of grants available to fund your farm to school program. Click on the type of funding you are interested in to be taken to that area of this page.
---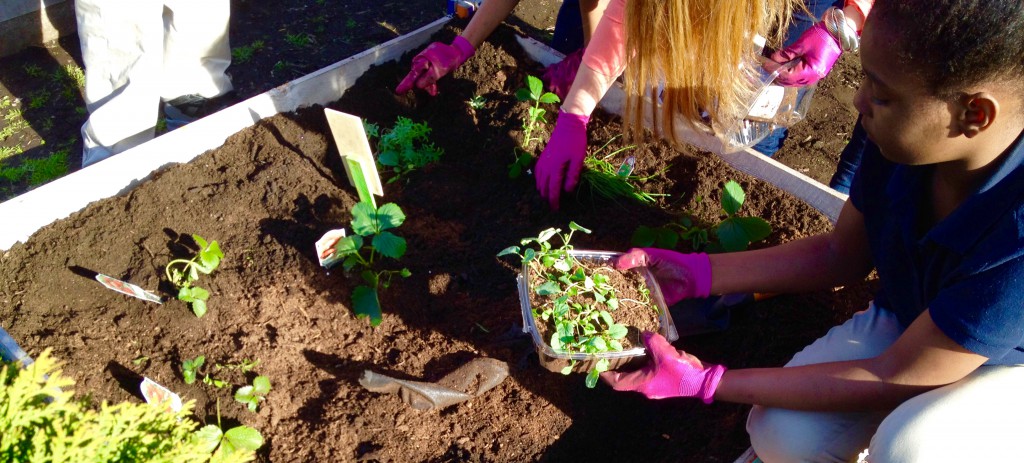 The USDA Farm to School Grant
The USDA Farm to School grant is the main funding stream for farm to school programs, and this grant has provided the infrastructure for farm to school across the country. In September 2015, Agriculture Secretary Tom Vilsack announced the release of a new report that shows that USDA's Farm to School Grant Program, established and funded through the Healthy, Hunger-Free Kids Act, has helped 12,300 schools improve nutritious meal options made with local ingredients for 6.9 million students, while expanding market opportunities for family farmers and ranchers in their communities. Through its Farm to School Grant Program, USDA has awarded 221 grants in 49 States, the District of Columbia and the U.S. Virgin Islands over the past three years. Fifty percent of funded projects included expanding healthy menu options offered in the cafeteria; 46 percent included training for food service staff about menu planning, meal preparation, and cooking with local and regional foods; and 65 percent included nutrition education activities. Read the full report here.
You can find more information about how to apply for the grant and previously granted projects here.
USDA Community Food Project Grant Program
The 2016 USDA Community Food Projects Grant Program Request for Applications has been released, with $8.4 million in grant funding available. Community Food Projects are designed to increase food security in communities by bringing the whole food system together to assess strengths, establish linkages, and create systems that improve the self-reliance of community members over their food needs. Eligible grant applicants include food program service providers, tribal organizations, or private nonprofit entities, including gleaners.The New Entry Sustainable Farming Project is providing free one-on-one technical assistance and resources to organizations interested in applying for the Community Food Projects Grant Program through the National Institute of Food and Agriculture. For more information and to apply for technical assistance, please visit the Community Food Projects' website. Applications are due November 30 at 5:00 pm EST.
---
Funding for Farmers
The USDA has a strong infrastructure of grants for small farmers who might be interested in farm to school. As a part of the Know Your Farmer initiative, USDA created a chart that outlines the different funding streams depending on the type of grant you need. Look at the chart here: USDA programs in the Local Food Supply Chain.
USDA New Farmer Outreach and Education Grant
The purpose of this grant is to fund projects that educate new and underserved farmers about the 20 Farm Service Agency programs that provide financial, value-added production, property inheritance, production, disaster, or technical support. Eligibility is reserved for 501(c)3 nonprofits and institutions of higher education. Funding is between $20,000 and $100,000 per applicant. The application deadlines for each evaluation period are Nov. 20; Jan. 22; Mar. 18; and May 27. The grant can be accessed here.
Farm Credit
The National Farm to School Network partnered with Farm Credit, an organization over 100 years old with a long history of supporting farmers and rural America, to create paths to funding farmer farm to school projects. They created a fact sheet with ideas and examples of how Farm Credit and affiliated programs have funded Farm to School efforts across the country. Download the factsheet here.
---
Funding for School Gardens 
These sections will be updated periodically. For the most up to date grant information, please join the network to subscribe to our newsletter. This will keep you informed about the most current grants.
Whole Kids Foundation School Garden Grant Program
Created in partnership with FoodCorps, the Whole Kids Foundation School Garden Grant program provides a $2,000 monetary grant to a K-12 school, or a nonprofit working in partnership with a K-12 school, to support a new or existing edible garden on school grounds. Visit the Whole Kids Foundation website for complete program guidelines, FAQ, and the online application form.
Youth Garden Grant
Created and awarded by the National Gardening Association, the Youth Garden Grant awards packages that are valued at over $500 to schools, non-profits, and youth programs. Programs must have a minimum of 15 students ages 3-18 to be eligible to apply. Applications are now open and close on December 1, 2015. Winners will be announced on January 21. For more information about the National Gardening Association or the Youth Garden Grant visit the Kids Gardening website for more information, rules, regulations, to access the online application or for gardening lesson plans and resources.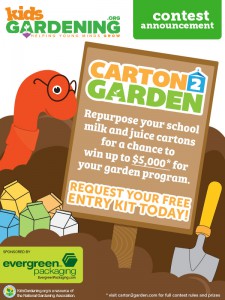 Carton2Garden Contest 
The Carton2Garden contest is supported by KidsGardening.org and presented by
Evergreen Packaging. The contest is rewarding up to $5,000. Only schools are eligible to
enter the contest. Adult sponsors 18 years old or greater may submit applications by the April 13th deadline. To access contest rules click here, to access the contest application form click here.
Grants for Food Garden Projects with Seed Money
Seed Money is giving away 125 grants of $400 to food garden projects. Seed Money is a crowdfunding and grant platform for food garden projects. To apply for a grant, start a project by November 12. More details available here. 
Bonnie Plants' Third Grade Cabbage Program
Each year, more than one million free cabbage plants are distributed to third-grade classrooms across the country. As part of the program, Bonnie Plants awards a $1,000 scholarship to one student in each state for sending in a photo of a unique-looking cabbage. Schools K-12 are eligible, read more here.
National Gardening Association Youth Garden Grant Program
These grants are awarded to schools, non-profits, and youth programs. Programs must have a minimum of 15 students ages 3-18 to be eligible to apply. Grants vary in size and can be found here.
Annie's Homegrown Garden Grants
Annie's mission is, "A garden in every school." The Annie's Homegrown website has many resources to help start and sustain a school garden. There are two application cycles a year. Annie's also offers a Garden Funder, which is a platform for schools to use to fund their own garden projects.
Captain Planet Foundation
The Captain Planet Foundation considers grant proposals that have external resources committed to matching the awarded grant money by 50% or higher. Apply to this grant if your school has a partner in the community that is willing to help fund your school garden. Projects must be completed by students.
Fiskars Project Orange Thumb
Fiskars Project Orange Thumb awards 30 schools across the nation each year with $3,500 in grant money and gardening tools. Fiskars' goal is to beautify neighborhoods, promote community involvement and teach the importance of sustainability and healthy eating.
The Fruit Tree Planting Foundation
The Fruit Tree Planting Foundation accepts grant applications on a rolling basis. Geared towards public schools, FTPF seeks applicants with enough space to support a fruit tree grove, as well as a long-term plan on how the fruit trees will serve the community at large.
Chef Ann Foundation
The mission of the Chef Ann Foundation is to provide tools that help schools serve children healthy and delicious scratch-cooked meals made with fresh, whole food. Through their grants, they are able to award equipment funding to schools that are committed to making real, positive changes to their food programs. Find more information here.
Nature Works Everywhere
The Nature Works Everywhere grant will award between $1,000-$2,000 to schools starting or maintaining a school garden program. Preference is given to projects that include aspects of natural infrastructure. Get creative with habitat gardens, rain conservation or pollinators.
Wild Ones- Seeds for Education
Perfect for a school garden, the Wild Ones grant is intended to introduce native plants into your school's ecosystem. The money awarded, from $100-$500, will be used for the purchasing of native plants and native seeds. Applicants are required to show how the plants will be incorporated into the school curriculum.
---
Community and Miscellaneous School Grants
The Lunchbox School Food Service Grants 
Grants with a focus on improving school lunch menus and expanding your student's palates include the School Food Support Initiative and the Project Produce Fruit and Veggie Grants. Read more here.
Solid Waste Management Grant Program 
The purpose of this grant program is to fund organizations that work to reduce or eliminate water and solid waste pollution in rural areas. Eligibility requires a Private, 501(c)3 status for organizations, government agencies, federally-recognized Native American tribes, academic institutions. The funding is $4 million total and the deadline is December 31, 2015. Read more here at the USDA website or here at the Rural Assistance Center website. Access the application here. 
Fuel Up to Play 60 
Every year, the National Dairy Council, National Football League, and the USDA provide grants up to $4,000 to K-12 schools with programs that encourage youth to eat healthily (low-fat and fat-free dairy, fruits, vegetables, and whole grains) and exercise for at least 60 minutes daily. One of this year's Healthy Eating Plays focuses on Farm to School. Eligibility requires that K-12 schools that follow one Healthy Eating Play and Physical Activity Play. Funding is up to $4,000 per year per school with a deadline at November 4, 2015.  Read more here.
Micro-Grants/Karma for Cara Foundation 
The purpose is to fund service projects in communities, with ideas including rebuilding a playground or turning a vacant lot into a community garden. Children 18 and under are eligible. Funding is between $250 and $1,000 with a rolling deadline. Applications can be found here and must be submitted to info@karmaforcara.org.
Let's Move! Salad Bars to Schools 
This partnership between United Fresh, the White House, the Center for Disease Control, and others, helps provide resources for schools to install salad bars. Applications for School Districts can be found here, and information and a toolkit for parents can be found here.
Shopko Community Grants 
Promote healthy lifestyles and educational opportunities within your community with this grant. The information can be found here.  
Lowe's Toolbox for Education Grants 
Lowe's Charitable and Educational Foundation (LCEF) has helped more than 8,000 schools across the country create reading gardens, build playgrounds and implement other improvement projects that help strengthen their schools and their communities. Read more here.
Life Time Foundation Grants These grants for schools are focused on eliminating harmful ingredients from school food, and support schools who want to start cooking from scratch. Read more here.

The Sow It Forward School Garden Grant
Sow It Forward is the grants and partnership program of Kitchen Gardeners International. The grant is for nonprofit causes or organizations (schools, 501c3s, food banks, community gardens, colleges, libraries, prisons, senior programs, etc.) interested in starting or expanding food garden projects that are of general benefit to their community. Past grantees include school gardens, community gardens, food bank gardens, library gardens, senior gardens, prison gardens and homeless shelter gardens among others.
Safer® School Garden Grant
Providing a chance for a healthier future is exactly why Safer® Brand is giving away a $500 school garden grant.  Check out the Safer® School Garden Grant page for more information on why school gardens matter, how to build one and to apply for the Safer® School Garden Grant.
Sustainable Agriculture Research and Education
Sustainable Agriculture Research and Education (SARE) offers a number of different grant opportunities in all of its regions. Grant proposals should focus on research and education. In the North Central region, for example, there is a grant of up to $2,000 awarded to Youth Educators. Check out your region to get a better idea of which grants your school garden could apply for.