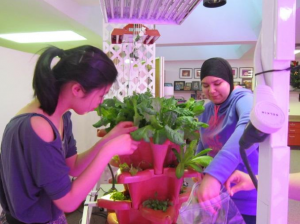 Westmont High School
Students at Westmont High School in DuPage County, Illinois are growing food indoors and out! Lisa Hootman, science teacher, manages the Westmont High School garden program Earth to School. Westmont has expanded their garden from 8 raised outdoor beds to 16. They added indoor hydroponics incorporating high school curriculum from biology, chemistry, environmental science, math, and business. In the fall, the school donates part of their harvest to the People's Resource Center in Westmont. They also hold an autumn Farmer's Market in conjunction with school athletic activities. The garden is truly year-round and also feeds the students in the form of classroom tastings, and on the lunch line! Lisa worked with a company called Root 66, based in Brookfield, to install the hydroponic garden. Westmont High School is doing great work teaching students how to grow and eat more veggies!
---
Tomcat Garden East Aurora High School
Coming soon!!!
Does your Illinois Farm to School program want to get in the spotlight? Contact diane@sevengenerationsahead.org with your story!