Overview
Sourcing Locally Grown Food
Local food procurement is different for each school based on the amounts of food needed, the location of the school and the seasonal availability of fresh, local foods. Sourcing locally can involve direct relationships with local farmers and producers, shopping at farmer's markets or produce auctions, drawing from local DOD selections, working with regional produce distributors and aggregators, or working with primary or secondary distributors to locate regional or local items. The Illinois Farm to School Network has created a Mighty Mini training video, Local Sourcing, which provides information and insite for school districts considering, or expanding local or regional sourcing. Our videos are located under the Mighty Mini Video tab. You can also find a full list of local sourcing resources on our cafeteria programs page.
Use the tabs at the left to view resources for procuring local food.
Here is the PDF download for all materials from this presentation.
---
Have a resource that you'd like to add? Contact the network.
Local Food Procurement Resources
Here are some great materials from outside organizations on the topic of local food procurement. All of these resources have been vetted and provide useful information on how to add local foods into school food purchases.
USDA Farm to School
USDA Farm to School Factsheets
Other Resources
Where to Find Food
Use the following list of search engines, directories, and maps to locate sources of food grown near you:
Menu Planning with Local Foods
Incorporating local foods into the menu doesn't have to be a challenge! With a solid plan, you'll be able to create menus with ease and limit waste.
Schools that participate in the National School Lunch Program should incorporate local foods into their menus in ways that coordinate with the school nutrition guidelines.
There are many resources for food service directors to use when planning menu items that use local foods: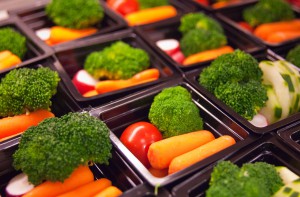 Fresh, local vegetable cups prepared for the National School Lunch Program at Washington-Lee High School in Arlington, Virginia.
You can also check out our Mighty Mini Videos for guidance on using local foods in your menu:
Click here to download the materials from this presentation.
---
The Illinois growing season slows down considerably in the cold, winter months. If you're wondering how you can extend local food items through the winter season, check out this presentation:
Click here to download the materials from this presentation.
---
Check out the history of school lunches in the U.S. and how you can join the movement back to from-scratch cooking in lunchrooms in this video presentation:
Clickhere to download the materials for this presentation.
---
If your school needs support, including:
Skills training for staff,
Reorganization of kitchens, serving lines and cafeterias,
Adding equipment and small wares,
Recipes and food production technical assistance,
Incorporating scratch cooking or fresh prep,
Preserving the harvest: processing & storing summer fruits and veggies,
Adding or updating salad bars,
And, much more!
Contact the Illinois Farm to School Network. We have the tools and technical assistance to assist you!
Local Food Cafeteria Campaigns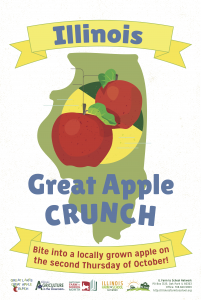 Healthy food marketing campaigns can include promotional/educational materials including posters, service line signage, morning announcement verbage and more. The Illinois Farm to School Network encourages schools to celebrate local foods on the menu or in taste tests with added fun and excitement. Why? When students find a sense of fun in the cafeteria, they are more likely to try new foods and there is less food waste. Promoting your farm to campaign will build excitement, interest and participation. Our Mighty Mini video, Marketing Farm to School, provides many ways to build the excitement in your campaign. You can access the videos on the Mighty Mini video tab.
The Great Apple Crunch is an example of a state-wide local food promotional campaign. In 2016, the IFSN will run a Harvest of the Month pilot program with five Illinois school districts. The Ilinois Harvest of the Month program is open to all school districts, feeding sites, early childcare, after school and summer programs and garden programs. This free program is open to all sites across Illinois.
---
Here are some materials from other states:
Salad Bars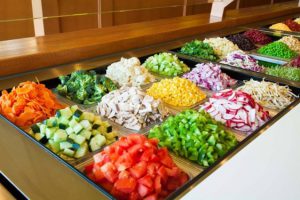 Salad bars are a great addition to school lunch programs. Salad bars can be served as a complete meal with a grain and a protein/protein alternate option on the bar, or as the daily fruit and vegetable options to complete a meal. These bars are the perfect vehicle to increase veggie comsumption for the USDA required vegetable groups! 
This partnership between United Fresh, the White House, the Center for Disease Control, and others, helps provide resources for schools to install salad bars. Applications for School Districts can be found here, and information and a toolkit for parents can be found here.
---
Check out our Mighty Mini Video below titled Salad Bars 101. This video is chocked full of information and tools for creating school salad bars:
Click here to download all the materials from this presentation.