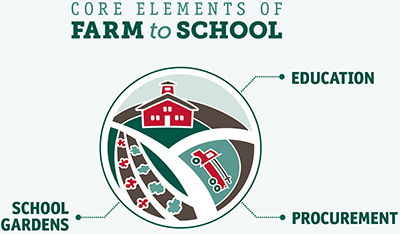 Network-Wide Informational Webinars
Learn more about how to incorporate various aspects of farm to school in your schools, early childcare and in your community. The Illinois Farm to School Network hosts webinars to provide information on farm to school topics and share state-wide updates. Be in the know, learn how to navigate farm to school programming, and network with others in the farm to school field.
Past Network-wide webinars:
March 21, 2016 ~Fantastic School Gardens!
May 16, 2016 ~IL Farm to School Programming 411
September 8, 2016 ~ Adding Local to the Menu
November 9, 2016 ~ USDA Farm to School Grant 411
January 31, 2017 ~ Solving the Scratch Cooking Puzzle
April 11, 2017 ~ Introducing IL Harvest of the Month!
May 16th, 2017 ~ Planning for Next Year w/Farm to School
September 27, 2017 ~ Gardening with Grants and More!
November 15, 2017 ~ School Wellness Policy Reboot!
January 23, 2018 ~ Connecting the Dots: Successful Marketing for Your Farm to School Program.
March 27, 2018 ~ Planning for Farm to School Success!
May 16, 2018 ~ IL Harvest of the Month, Learn from Our Participating Schools!
Presentations are stored online on our Google Drive. Check out this link for the powerpoints, PDF versions, and recordings: VIEW PAST WEBINARS HERE. 
Future Network Webinars:
We announce upcoming webinars in our monthly IFSN newsletters. If you would like to receive our monthly newsletter sign up here.
Networking Opportunities to Build Farm to School in Illinois
Farm to School is happening across our state in many ways! Indoor and outdoor gardens are blossoming while kids learn about math, science, food, and nutrition. Monthly local food tastings are happening in cafeterias, local foods are finding their way onto meal trays in schools, early childcare and institutions, and local foods are now being utilized in culinary arts programs. These are just some of the ways farm to school impacts Illinois children every day.
The Illinois Farm to School Network provides information and assistance to members across Illinois from Waukegan to Carbondale. Our network of teachers, gardeners, school nutrition professionals, early care providers, farmers, food hubs & distributors, public health advocates, and students are passionate about working to change food purchasing and education practices in their communities.
It takes an army of promoters and doers to build farm to school across our state. Would you like to become more active in farm to school in Illinois? Are you a person of action? Do you have the ability to share information, promote, or organize farm to school activities in your area of Illinois? Then, we would love to hear from you!
Contact us at farmtoschool@sevengenerationsahead.org and share your desire to be a participant in the Farm to School movement!  Already working on farm to school? Share what is happening in your area of Illinois and help us to promote farm to school across our state!