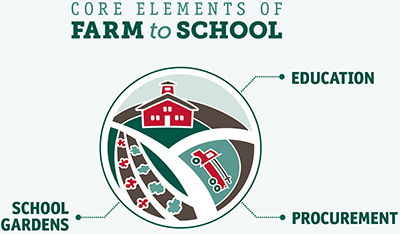 Network-Wide Informational Webinars
Learn more about how to incorporate various aspects of farm to school in your school and community. The Illinois Farm to School Network hosts bi-monthly webinars to provide information on farm to school topics and share state-wide updates. Be in the know, learn how to navigate farm to school programming, and network with others in the farm to school field.
Past Network-wide webinars:
March 21, 2016 ~Fantastic School Gardens!
May 16, 2016 ~IL Farm to School Programming 411
September 8, 2016 ~ Adding Local to the Menu
November 9, 2016 ~ USDA Farm to School Grant 411
January 31, 2017 ~ Solving the Scratch Cooking Puzzle
April 11, 2017 ~ Introducing IL Harvest of the Month!
May 16th, 2017 ~ Planning for Next Year w/Farm to School
September 27, 2017 ~ Gardening with Grants and More!
November 15, 2017 ~ School Wellness Policy Reboot!
January 23, 2018 ~ Connecting the Dots: Successful Marketing for Your Farm to School Program.
March 27, 2018 ~ Planning for Farm to School Success!
May 16, 2018 ~ IL Harvest of the Month, Learn from Our Participating Schools!
Presentations are stored online on our Google Drive. Check out this link for the powerpoints, PDF versions, and meeting recordings: VIEW PAST WEBINARS HERE. 
Future Network Webinars:
TBD. We will announce our next webinar and meeting in future the IFSN Newsletters!
Working Group Meetings
In 2016, small working groups of IFSN members began meeting on an as needed basis focusing on different topics. These groups included:
School Gardens
2016 Springfield Illinois Farm to School Conference
Local Food Procurement
Policy
Education (for teachers)