Hundreds of students in Oak Park, Illinois participated in the 2015 Great Apple Crunch on Wednesday, October 21st at William Beye Elementary and Oak Park River Forest High School (OPRFHS) with free, locally grown gala apples.  William Beye Elementary incorporated apples grown at Rendleman Orchards in Alto Pass, Il into the lunch that was served to the children, and OPRFHS offered their students local apples from Jack Brown Produce  in Michigan.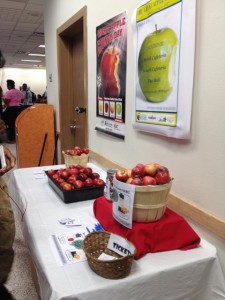 OPRFHS had great student involvement from their farm to school student group who set up three booths around their cafeterias for the apple crunch with posters and games. In addition to an
official Great Apple Crunch poster, the students created their own promotional sign: "North Cafeteria, South Cafeteria, The Mall, Every student gets a FREE apple". Each booth also had Great Apple Crunch handout sheets, and a fun game where they had to guess the amount of calories in a basket of apples and a mason jar full of Hershey's Kisses. The game was set up so that both the large basket of apples and the smaller jar of chocolates had the same amount of calories. The winners who guessed correctly won the basket of apples!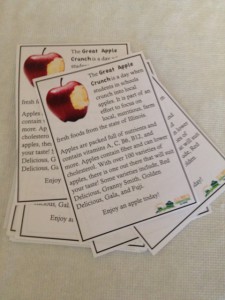 As students walked by and took their apples we asked them for their comments on the Great Apple Crunch and their thoughts on the locally procured fruit. One student remarked "Apples are the best!", and another student stated that "Honeycrisp apples are nature's candy" when we were talking about our favorite varieties. Many students were excited, and some were shocked when told that we were giving out the apples for free.
After trying his local apple, one student remarked "I would eat more fruit at school if it all tasted this good."  
One conscientious student noted that "local apples are cheaper, better for the economy, fresher because they aren't in transport as long, and they are healthier for us."