Did you hear that? That was the sound of almost 600,000 students, teachers, parents, and farm to school supporters CRUNCHING into local apples for the Second Annual Great Apple Crunch. Over 850 schools, preschools, colleges, non-profits, state agencies and others across the midwest celebrated National Farm to School Month by crunching into locally grown apples on Thursday, October 22nd.
Participants joined in on the Great Apple Crunch from across the region, including Ohio, Illinois, Michigan, Indiana, Wisconsin, and Minnesota. Over 830 schools and 530,000 students crunched to show their support of farm to school throughout the week –  from small towns like Hastings, MI, and Manitowoc, WI, to big cities like Minneapolis and Chicago. In Wisconsin over 30 orchards participated in the Crunch!
This was the first time participating for Illinois, and we had a strong start with support from schools, students, media outlets, and many organizations. The highlights of the articles that were published online along with links to the original publications can be found below.
---
Lombard, IL
Community Contributor, Jay Wojcik, wrote an article for the Chicago Tribune on Oct. 9th. Jay wrote about the activities occurring in Lombard, IL for the Great Apple Crunch and stated the participation of the Healthy Lombard Foundation during this event. Kids were encouraged to join by eating apples at noon on October 22nd or going to their local Jewel-Osco in Lombard, which gave out coupons for apples. Read more here.
---
Bloomington, IL
Kay Shipman wrote an article on the Illinois Farm Bureau's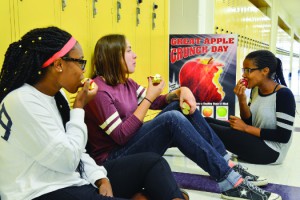 radio and news website, FarmWeekNow.com. Kay wrote about Bloomington High School seniors who were eating local apples prior to the event. Bloomington HS received their apples from local grower, Flamm Orchards of Cobden, IL. Kay interviewed Cynthia Haskins and Kevin Daugherty from IFB, both of whom were invaluable partners with IFSN to make this pilot event so successful. Read the original article here.
Illinois Farm Bureau, Illinois Agriculture in the Classroom (IAITC) and Illinois Farm to School Network collaborated on the pilot project to encourage Illinois schools to use Illinois-grown apples "as supplies allow," said Cynthia Haskins, IFB manager of business development and compliance.

IAITC and county ag literacy coordinators helped distribute 5,000 posters promoting the project as well as classroom apple activities offered in the new apple Ag Mag … We're promoting everybody eat an Illinois apple on national Farm To School Day Oct. 22," said Kevin Daugherty, IFB education director.
---
Springfield, IL
GrowSpringfield.org and the Springfield State Journal-Register posted articles about the Great Apple Crunch. Growspringfield.org stated that the event promotes healthy eating and "The Great Apple Crunch is a great way to showcase local Midwestern food and farmers." Read more here.
Rich Saal from the SJ-R posted the week of October 19-25 under the visual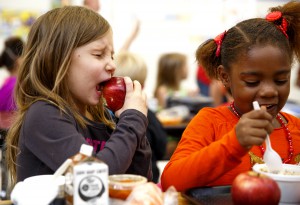 journal, showcasing pictures and events from each day of the week. For october 22nd, the Great Apple Crunch was showcased. First graders from Enos School were shown  crunching into their apples with just a few teeth. Apples eaten in the district were donated by local grower Rendleman Orchards in Altopass, IL. Read more here.
---
Bensenville, IL
The Bensenville School District posted their activities and celebration for the first Great Apple Crunch on their school website. The school district stated that the students would be crunching into local Fuji and Golden Delicious apples from Michigan.  This event is a way of increasing student education to eat local fruits and vegetables. View their posting here or their newsletter here.
---
Carbondale, IL
On Great Apple Crunch Day, Kevin Boucher, from WSIU posted a short audio interview with Lydia Mills, SGA Illinois Farm to School Coordinator, and Ulli Tragoudas, Food Service Director at Unity Point School in Carbondale. Lydia can be heard describing the event and its purpose while Ulli describes the excitement and reactions from the students at Unity Point, which is one of many Southern Illinois Schools that participated in the event. The original article and interviews can be read and heard here.
---
Macomb, IL
Western Illinois University published a story about their Communicating Agriculture Issues students who have been working on agriculture advocacy projects. One project occurred on Oct 22, during the Great Apple Crunch. WIU students passed out apple slices with caramel around campus while informing fellow students about apple facts and asking them to support local Illinois Apple farmers. Read more here.