Field trips to farms are fun for students and teachers and provide great links to school garden programs and local food cafeteria programs. Imagine visiting the farm that is providing your school with milk, apples, or another Illinois product!

Illinois Farm Bureau 
If you are seeking a farm to visit, the Illinois Farm Bureau is a great resource. Reach out to your county Ag Literacy Coordinator from Illinois Agriculture in the Classroom to learn more about the farms in your area. IATC also offers the 'Adopt a Classroom' program that links schools with ag writers.
---
Angelic Organics Learning Center
In Northern Illinois, there is an educational farm that offers field trips and workshops for all ages: Angelic Organics Learning Center.
​Angelic Organics Learning Center builds sustainable local food and farm systems through experiential education and training programs in partnership with rural and urban people. Angelic Organics Learning Center is a member of the Illinois Farm to School Network.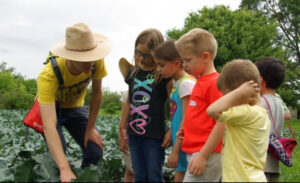 ---
Liberty Prairie Foundation

Liberty Prairie Foundation, a 501(c)(3) private operating foundation in Grayslake, Illinois. The foundation works to build and strengthen the local food system while supporting healthy ecosystems and vibrant communities. Prairie Crossing Farm is the Headquarters for the foundation. The foundation offers many programs such as farm and youth development, leadership and financial support for sustainable local food system development, conservation and environmental education, and social entrepreneurship. Prairie Crossing Farm is an organic farm that is the source of the food used in the Prairie Farm Corps youth program. This is an interactive and educational program where young boys and girls can learn to plant, grow, harvest, and cook organic, locally procured food. The foundation also offers tours on its organic farm and provides links to other nearby farms that also offer farm tours.
---
Cook County Farm Bureau Virtual Farm Field Trips
Cook County Farm Bureau offers free In-School & Virtual Field Trips for 4th grade students. Topics range from There's Ag on My Plate to Apples and Pumpkins, and more. You can find information here.
---
More Farm Field Trip Locations in Illinois
Lambs Farm, Libertyville IL
Richardson Farm, Spring Grove IL
Windy City Harvest, Glencoe IL
Sonny Acres Farm, Chicago IL
The Center, Palos Park IL
Rader Family Farm, Normal IL
Blue Ridge Community Farm for Special Needs Adults and Children, Chillicothe IL
Butterprint Farm, Monee IL
Primrose Historic Dairy Farm, St, Charles IL
Pushing the Envelope Organic Farm, Geneva IL
Kline Creek Farm, DuPage CO. Forest Preserve District, Wheaton IL
Orchards and Pumpkin Farms
Indian Creek Pumpkin Farm, Petersburg IL
Eckert's Farms, Multiple IL locations
Kuipers Family Farm, Maple Park IL
Dittmar Farm and Orchard, Elizabeth IL
Heap's Giant Pumpkin Farm, Minooka IL
All Seasons Orchard, Woodstock IL
Goebbert's Farm and Pumpkin Patch, Pingree IL
Illinois Farm Field Trip Resources
Are you an Illinois farm who hosts field trips on your farm? Contact us and we will add you to the growing list of farms participating across the state! Email us at farmtoschool@sevengenerationsahead.org