Harvest at Home
The Home Crunch
Harvest at Home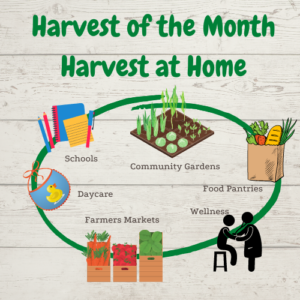 Our At Home and In Community Farm to School Toolkit (ATIC) provides adaptable resources for your whole community within four primary connects for the Illinois Harvest of the Month program. This is a free program for k-12 schools, early care, child garden programs, child boarding facilities, afterschool, community and summer programs, home-school groups and sites and partner organizations sharing resources and programming. 
ATIC Primary Connects are:
Home Connect
Educate and share ways to grow, prepare, and preserve garden and local foods at home with resources you can share in backpacks, in after-school clubs and programs, during online lessons, at early care centers, your local library, and at grocery stores and farmers markets in your community.
Community Garden and Local Farm Connect
Are you a community garden or child garden program in Illinois? Share Harvest at Home resources, activities and simple techniques to grow food for families at home in, and outdoors. Connect your families to a local farmers market, or an area farm by providing education and information about Community Supported Agriculture (CSA) shares available in your community. Share information about EBT purchases at the farmers market to connect all of your families to local food.
Healthy Community Connect
Create a connection to local hospital health programs, Produce RX or Veggie RX programs, your local health agency or other nutrition and health related organizations through partnerships Share Harvest at Home resources to teach families about healthy foods, growing food, and to educate parents on the benefits and "how-to" elements of cooking and preserving fresh healthy foods for their children.
Food Pantry Connect
Help local pantries increase health outcomes for their clients by sharing healthy recipes, easy preparation techniques, and insight for donated, or gleaned local produce items by providing Harvest of the Month home recipes, Fun Fact Friday and Harvest at Home/Pantry shares and resources when you register for the Illinois Harvest of the Month program. Share information about the Farm to Food Bank program with your local pantries and the farms you are working buying from. Farmers Feeding Illinois is a program connecting an array of statewide Agri-sourcing initiatives in support of Feeding Illinois food banks and their network of community agencies. 
 To keep up to date on all farm to school information, grants, stories and case studies subscribe to our newsletter!
The Home Crunch