The University Of Illinois Extension has many resources to help build and maintain a School Garden.
School Gardens
To learn about gardening basics such as how to plan and start a garden and what to grow within the garden look here.
First Garden
If you are starting your first garden then great resources are available here. This site offers basic information for gardens such as how to select a good spot for a garden, how to select and test soil, how much water to use on the garden, and what kind of fertilizers to use. Gardening fundamentals can be utilized with this resource along with garden planning tips.
Herb Gardens
To learn about the varieties of herbs and how to grow them, click here. This resource also offers ways to preserve herbs and provides some delicious recipes.
Vegetable Gardens
Growing a vegetable garden can be tedious and difficult at the beginning, but to learn about planting techniques and tips for growing vegetables click here.  This resource offers a directory of vegetables and and a glossary of gardening terms. Panning a garden is an important step this resource offers help with planning and selecting the proper vegetables for what ever climate and condition the garden in in.
Apples
Apples have many varieties and grow in different climates during different times of the year. Each apple also has different uses and this resource offers facts and descriptions of the different varieties of apples and recipes for apples. Apple preservation, nutrition facts, growing tips, educational materials and a class curriculum are also some of the resources available here.
Composting
Composting is a great way to use leftover food scraps and provide vitamins and  minerals to soil and gardens. This site offers different ways people can compost offering tips and tricks to starting off your compost bin, how to make a compost bin, and solutions for common issues, how composting works. Click here to access the website. To read about more basics for composting visit this page.
Composting and Recycling Leaves
Fallen leaves can be recycled, used a mulch or used as a soil conditioner. Instead of having leaves hauled away, the leaves can be reused in school gardens or compost bins. to learn more about how yard waste and trimmings can be reused, what the benefits are, and how it works, and composting regulations, visit this page. Read more about how schools can incorporate recycling leaves here.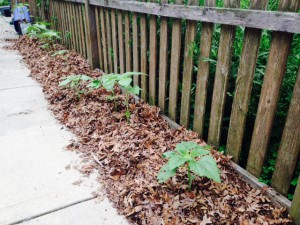 Planting Natives
Planting native plants is a great way to support the local ecosystem. These types of plants require less maintenance and watering. This resource explains the significance of blooming periods and color, while offering a selection chart that shows the months of bloom, plant species, size of the plant, required sun exposure, water moisture level, and the wildlife impact. Click here to view the whole resource and find out how to bring more wildlife into the garden.
Feeding Preschoolers With Food For Thought
Food varieties and nutrition information are some of the resources found here along with fun activities, building balanced healthy meals, growing an herb garden, how to introduce new foods to children, and many more.
Ag In The Classroom
AITC is a statewide educational program, which is used to teach and educate students, teachers, and the general public about to role of agriculture in society and the economy. Click here to find resources for classroom tool-kits, educational programs for grade K-3 and 4-8, grants available, and some general helpful links for teachers.
Food Fun 
To access great and fun actives from coloring books to the alphabet click here. this site offers many resources to make learning about fruits and vegetables fun and colorful. The activities provided can assist in teaching the alphabet, how to count, and colors which can be completed online with audio or printed.
Schools Online
Schools Online is a hub of different websites that can be used as resources to educate children about health and fitness, life skills, and science along with fun educational games. Additional resources for parents and teachers can also be found at this website hub, here.
Sow And Grow
Seven Generations Ahead has created a Fresh From the Farm Garden Curriculum. This curriculum contain an entire lesson plan including workbooks and recipe books. The curriculum can be found digitally here, and it intended to be used for elementary and middle school to classrooms meet the Next Generation Science Standards.