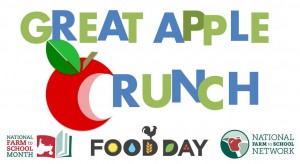 The Illinois State Board of Education has officially endorsed the Great Apple Crunch, an event happening in schools across the state on October 22nd, 2015. Check out the endorsement letter here: ISBE Endorses Great Apple Crunch.
Want to learn more about how your school can participate? The Illinois Farm to School Network is hosting an informational webinar on September 15th. Please register if you can attend or if you would like to receive the recording. Here is some more information about the webinar:
On September 15th at 2pm, the Illinois Farm to School Network is holding an informational webinar on how to participate in the first Illinois Great Apple Crunch – a day for students to 'crunch' into a local apple and learn about food! Get free materials, including menu signs and cafeteria activity worksheets. Get ideas for how to publicize your event and involve your school community. The webinar is free and open to all teachers, school food service professionals and school administrators. The webinar will be recorded and emailed to all registrants. Register here.