There's an amazing organization tucked in a business park on the edge of Geneva, Illinois. It doesn't make food additives or envelopes, or produce entertaining plays for their community like the neighboring businesses. Its work isn't glamorous, and it doesn't have customers world-wide. But, it does have something else: heart. Lots and lots of heart.
It's the Northern Illinois Food Bank, which works to solve hunger everyday. You may be wondering why there is a need for a large, modern food aggregation facility that feeds 71,500 of your neighbors each week. How can there be that many hungry people in the 13 counties they serve?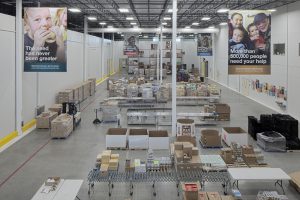 If you look at the hunger study Northern Illinois Food Bank participated in during 2014, you will note some shocking facts about our area of the state. Did you know 600,000 people in Northern Illinois turn to food panties and meal programs every week? Or that 78 percent of people who use the Food Bank's services have a high school diploma or general equivalency diploma, and 30 percent have completed some college, earned a business, trade or technical degree or completed a four-year college degree or higher level of education?
Are you surprised?
The face of hunger has changed.  In DuPage County alone, 85,560 are food insecure, and 44,010 people are food insecure in Kane County. Food insecurity refers to USDA's measure of lack of access, at times, to enough food for an active, healthy life for all household members, and limited or uncertain availability of nutritionally adequate foods. That amounts to 77 percent of those Northern Illinois neighbors making hard choices between paying utilities, or buying needed food.
Thankfully, Northern Illinois Food Bank is in it for the long haul. It is a nonprofit organization that provides food assistance through a network of 800 food pantries and feeding programs. Last year, the Food Bank distributed 62.5 million meals across 13 counties of Northern Illinois.
Each year in Northern Illinois, people are at risk of skipping 70 million meals, simply because they don't have enough food for three meals per day. Northern Illinois Food Bank has committed to filling this "meal gap".  It's goal is to bring the number of meals distributed in their network to 75 million annually by the year 2020. That would provide every meal, every day, for every hungry neighbor. Wow, just think about it!
We are so proud to be partnering with the Northern Illinois Food Bank at our Illinois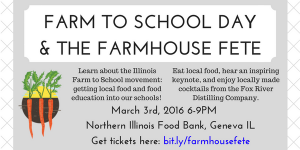 Farm to School Day on March 3. Every ticket purchased for our Farmhouse Fete will help feed those in need in our communities through the Northern Illinois Food Bank. We cannot think of a better partner, or a more important cause! See you at the Fete!