You can lead a student to the broccoli, but you can't make him eat it. Or, can you?
Summer is winding down and once again, schools across America are opening their doors, and their cafeterias. As school food service professionals begin the arduous process of re-opening kitchens, training staff and ordering food supplies, decisions are being finalized for breakfast and lunch menus. Calculations on nutrient content and required USDA meal components will be completed for each food item added to a meal, by the day and cumulatively for the week for multiple grade levels. It may sound like a lot of work and a bit overcomplicated, but these calculations are all part of the requirements of the National School Breakfast and Lunch Programs.
Whether the lunch program director is a registered dietician utilizing nutrition software, or a head cook in a small school district working the numbers "old school" with the USDA Food Buying Guide and a calculator, these final calculations have a lot to do with what is on that lunch tray. Veggies are now grouped by color based on nutrition breakdowns, and come with a required portion size based on student grade levels and weekly required servings. Fruits, protein, grains and milk are equally addressed. School lunch nutrition has evolved into a series of calculated formulas and checkboxes.
When you hear about students throwing away required vegetables, as well as other meal components, it is of no big surprise to anyone working in the school kitchen. Kids are being required to take food items they may not like, have no interest in, or even recognize on a daily basis.
So, just what have school lunch programs discovered as the dust settles on the new lunch requirements?
You can lead a student to the broccoli, but you definitely cannot make him eat it.                                               Unless you educate him, that is.
On a bright, sunny day in August, at an urban school district in Northeastern Illinois, kindergarten through fifth grade students experienced an introduction to a program that will make an impact on their lunches throughout the school year, Illinois Harvest of the Month. The response was overwhelmingly positive, as these students experienced local produce at the height of its season on their lunch trays.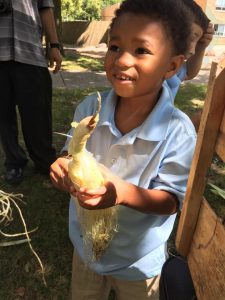 That isn't the full story, however. The part that makes this program so successful is the food education and fun that provides students with the ability to interact and learn about their food.
On this day at Haskell Elementary, a school in Rockford Public Schools District 205, Harvest of the Month education began as each student shucked an ear of fresh, local sweet corn on the playground during morning recess. As students furiously tore away the deep green husks and battled the fine silk guarding those sweet kernels of corn, they learned fun facts about the vegetable. They learned about where the corn was grown, and why there is so much "hair" on each cob.
The students also learned that for each kernel of corn there is a matching strand of silk, and there is a correlation between the two. Students giggled and proudly displayed their cleaned ears of corn before depositing them in hotel pans for further cleaning by food service staff. More than one child asked if they could place their name on that ear of corn,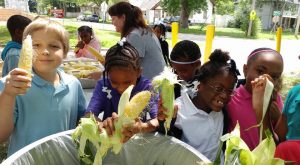 they were so proud of the job they did. Their reward was the promise of grilled sweet corn, local watermelon and a "Chicago made" hot dog on their lunch tray the following day.
You may be thinking this was an easy menu for kids to accept. Nevertheless, what you should take into account is that most of these kids have little experience with fresh vegetables in their raw form. They have precious little knowledge about how food is grown and limited experience in tasting fresh vegetables just one day after they are picked. Today's students do not know that vegetables, like many foods, have a history. And, that there are uses for vegetables beyond consumption. Knowledge like this can make a difference when it comes time for that student to taste a new or unknown food.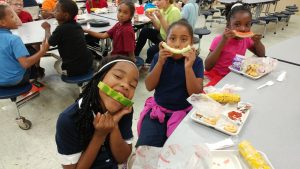 Rockford District 205 is preparing to orchestrate many lessons about locally sourced veggies throughout the school year. Illinois Harvest of the Month gives them the tools to incorporate local veggies into their lunch program with a side of fun and much needed education. The food service staff is excited and committed to improving the health of Rockford students through food education and new experiences with those unloved vegetables.
How will they know all their efforts to improve student acceptance of required healthy veggies are working?
The proof will be on the tray.