Recently, I read an article featuring Vermont Farm to School stories shared during a statewide Farm to School Day at the Vermont State House in Montpelier. Farm to school practitioners, health advocates and schoolchildren lucky enough to have a farm to school program in their district told many moving stories to House Representatives.
It got me to thinking about the power of stories told firsthand by the people who lived them. Speaking from the heart about an experience that has somehow shaped your daily life is one of the best ways to enlighten others and spread knowledge. Sharing these stories can be a powerful tool.
I managed school food service programs in Wisconsin for many years and I utilized this very same opportunity to share my experiences, and the experiences of my school-age son. While working to develop farm to school policies in Wisconsin, we repeatedly testified before the Agriculture Committee and the Senate. I watched as legislators leaned forward each time my young son spoke. It was magical.
Later, when I was on the road sharing farm to school programming with other organizations and schools, I often told stories of my students experiencing asparagus, spinach or radishes for the first time. I spoke about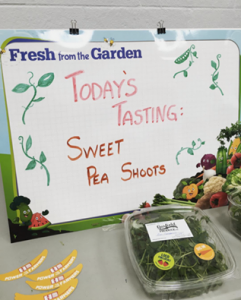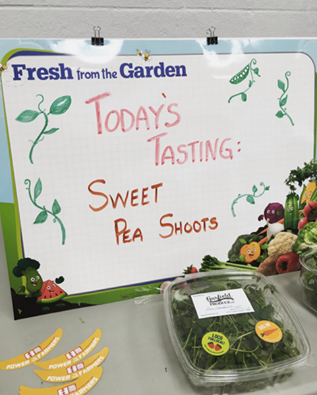 watching the change in students' eating habits as our cafeteria and classroom lessons slowly opened their eyes to new foods. That, too, was magical.
In Illinois, our farm to school stories have yet to be told. We need to change that.
I'm asking Illinois schools, partner groups and organizations to stand up and be counted! Share your stories with us and let us take your experiences to Springfield and beyond. Help us spread our Illinois farm to school story, sharing our successes, and lessons learned, in all things farm to school.
If you know of a school that utilizes a garden or a food service manager or head cook who buys local or regional produce for the cafeteria, ask them to share their story with the Illinois Farm to School Network. Tell us your stories and help us celebrate farm to school in Illinois! Connect with us on our website contact form at: Contact us at illinoisfarmtoschool.org! When you share this request, or share the fantastic stories to come, be sure to use the hashtag #ILF2SStories
Let's tell our farm to school stories from across Illinois. Share your experiences with us and watch farm to school grow in Illinois!
(Stories from Farm to School Awareness Day 2017, Posted on February 14, 2017 Vermont FEED Farm to School Vermont FEED News )